October 9th, 2006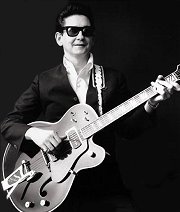 Muziek is leuk. Leuk.. en niét leuk.
Niet leuk, op avonden zoals deze waarop 'In Dreams' van Roy Orbison in mijn hoofd vastgetimmerd zit al ware het een slecht in elkaar gestoken Ikea-kast. Slecht, omdat het niet alleen in mijn hoofd zit, maar mijn hersenen me lijken te dwingen het over and over and over and over and over te zingen. Like a monkey with a miniature cymbal, als het ware!
"*gitaarpluk* Ae candy colored clown they call the Sand-Man *gitaarpluk* ", luid ik geheel onvrijwillig voor de 78ste fucking keer in en ik zie mijn moeder zich voor het hoofd slaan for not using protection zowat 23 jaar geleden. En ik kan haar niet ongelijk geven; na de 26ste keer begon het mij namelijk ook al ferm tegen te steken, en al zeker als ik er Julio Iglesias-versies van maak. Of het met een door diamant snijdende kopstem doe. Maar ik geraak er niet vanaf. En ik moet zingen. En ik kan niet van mezelf weglopen.
Just like The Olson Twins, it stopped being cute about 15 years ago, so give it a rest already, Roy..
I MEAN IT! DON'T MAKE ME COME UP THERE NOW!