June 29th, 2008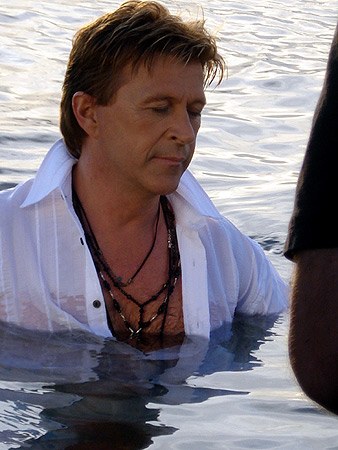 Schlagerzangers in België zijn zoals roodharige kinderen op de speelkoer van de lagere school; big red easy targets. Iedereen heeft zich wel al eens bezondigd hen met hun oncoolheid uit te lachen, maar daar doe ik, met het hand op het hart, niet aan mee. Niet meer alleszins. Toegegeven, vroeger grapte ik wel eens dat ik het geheime lief van Willy Sommers was, maar aangezien dat gegeven in het hier en nu niet eens meer zo gék en onvoorstelbaar zou zijn, ben ik daar maar mee opgehouden. Things just got a little too awkward for me. Bovendien was het eigenlijk ook niet echt grappig, besef ik nu.
"Eigenlijk ben ik Willy Sommers' geheime lief."
Stemmen verstommen, vorken blijven midweg zweven, de band stopt met spelen en ergens maakt een oehoe zich klaar voor de nacht.
Schlagerzangers zijn gewoonweg té vanzelfsprekend om te bekritiseren en net daarom doe ik er niet aan mee. "Ja, en analfabeten kunnen niet lezen noch schrijven. Haha!" Bovendien leken ze me volstrekt onschadelijk. Voor zover ik wist bestonden hun levens voornamelijk uit witte linnen broeken dragen op de zeedijk van Blankenberghe, talloze bloemen en beertjes toegeworpen krijgen en mensen aanmoedigen hun handen in de lucht te steken en heen en weer te wiegen op het ritme van hun hart en hun Vlaamse lied. Onschadelijk dus.
Enter "De Story van Jo Vally'.
"De Story van Jo Vally" is het portret van twee mensen die elkaar doodgraag zien, maar gewoon niet weten hoe ze samen verder moeten. Het paste dan ook perfect in ons human interest- blok.", zegt Vijf-TV, schijnbaar gemotiveerd gewone mensen te laten zien dat zij niet de enigen zijn die in zo'n penibele situaties kunnen terechtkomen.
En jawel, in BV-land is na zowat 25 jaar de funk helemaal uit het huwelijk van Marcella en Jo Vally verdwenen; Jo blijkt een scheve schaats te hebben gereden, maakt geen tijd voor zijn vrouw en een combinatie van beide and then some zorgt ervoor dat ze beslissen even in aparte huizen te gaan wonen. Jo, die het alleenzijn maar moeilijk kan verdragen, stelt voor samen op reis te gaan om te redden wat er nog te redden valt. Want zo zegt hij tegen zijn vrouw sinds het begin der tijden: "Uit het oog, is ook maar uit het hart."
Eens op reis in Tenerife met Marcella, blijkt hij zijn zwembroek thuis te hebben vergeten en terwijl Marcella reeds zorgeloos aan het zwembad ligt te verpozen, slaagt hij erin, tijdens het op de kop tikken van een nieuw paar, het emailadres van de plaatselijke winkelierster te ontfutselen. En gaat hij het achteraf aan Marcella tonen. Op een papiértje.
Jaja, Jo Vally and his way with the ladies: 't is no laughing matter.
Dat zijn muziek maar rommel was, tot daar, maar dat hij zijn vrouw zó ongeïnteresseerd kan aankijken, zelfs op TV, 't is een regelrechte schande.
He sure put the vally in valley. As in an all time low. As in a deep valley. As in a farfetched pun!